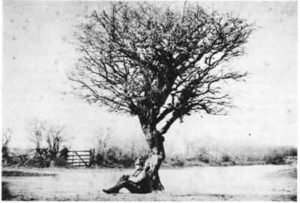 At the junction of Jockey Road and Chester Road in New Oscott, there once grew a hawthorn bush marking the point where met the parish boundaries of SuttonColdfield, Aldridge and Perry. The Ordnance Survey map of 1890 shows 'The Bush' public house here.
The story goes that it was under this bush that an unknown beggar lay and breathed his last. The responsibility to pay for the burial of a pauper lay with the authorities of the parish where the individual died. As the bush was on the boundary of each of the parishes and none of them would take responsibility for the burial, the poor man was buried where he died, hence the name, Beggar's Bush.
Not the only Beggar's Bush
The original bush was removed during road widening in the 1930s but a weather beaten hawthorn remained in the centre of the island until it was replaced by traffic lights in the 1980s.
Beggar's Bush is a surprisingly common place name with at least 120 instances at the last count, the earliest dating from 16th century. At that time, the term referred to ne'er-do-wells who brought about their own demise through idleness and had to go to the 'beggar's bush for their lodging'.
Shelter for Vagabonds
The Elizabethan era saw its fair share of recessions which created large-scale unemployment and forced numbers of people to the roads to seek for work. Laws were enacted at that time to try to distinguish between the deserving poor and folk who were able to work but would not. Such 'sturdy beggars' were to be whipped and returned to their own parishes.
It was the duty of each parish to enforce these laws. However, if a beggar could find shelter beyond the parish boundary, he was outside the jurisdiction of that parish. And so it may be, that beggars' bushes were on parish boundaries where vagabonds gathered to beg for alms in a no-man's-land beyond the reach of the parish officers.
There was a a public house here in 1841 which had been rebuilt by 1861, and the current 'Beggar's Bush' dates from the 1930s. It has always been a good location on a crossroads of one of the main roads from London to the north-west of England.
The image, showing a romanticised beggar under the Beggar's Bush, is from Neil Howlett's website 'Beggars Bush' and used under a Creative Commons licence.