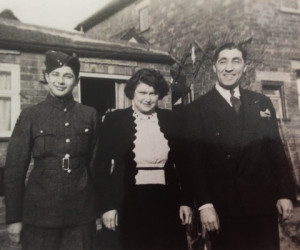 Philip Edmund Meader was a Jewish boy who was born in Birmingham in 1898. The surname is possibly of Polish origin. During the First World War Philip served in the Royal Engineers 18th Divisional Signals. Signals companies supported infantry divisions with a range of services including taking despatches and setting up and maintaining telephone systems.
Military records show that Philip was aged 19 on his enrolment into the Army in 1914. In fact, he was only 16 years old.
At the outbreak of war, the new recruits of Philip's division were trained in the Colchester area. However, conditions there were chaotic: there were few trained officers, no organised accommodation and very little equipment. When transferred to the Continent, the division served on the Western Front for most of the war and took part in many significant battles including the Somme, Passchendaele, Ypres and Amiens. By the end of the war the 18th had suffered 46,503 soldiers killed, wounded and missing, of whom 13,727 died. But Philip Meader was able to return safely home to Birmingham.
Mother's Early Life In Norfolk
His future wife Dorothy was born in 1905 at Mitford in Norfolk, a district which included her home village of Bawdeswell where her father was a baker delivering bread around the area by horse and cart. (Whitesides is a common name in Norfolk.)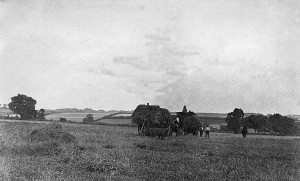 Much of the employment in the coastal areas of Norfolk depended heavily on the North Sea fishing industry both directly and indirectly. The prime catch was herring. Before the First World War there had been so many fishing boats in the harbour at Great Yarmouth, it was said that you could walk across from one side to other without getting your feet wet.
The coming of the railways had contributed to the boom, enabling fish to be taken to London and to the markets of the great cities of the Midlands and the North within hours of being caught
However, the good times were not to last. So many herring were caught that the species became all but extinct in the North Sea. The fishermen had killed the goose that laid the golden egg.
Sisters Move To Birmingham
After the First World War, the fleet was decimated and the local economy was seriously affected. Many from this largely rural area of the country emigrated to the cities to find work. And Dolly and her sister Gladys, seven years her elder, decided to make the 180-mile journey to the Midlands Metropolis of Birmingham.
What a culture shock it must have been, from rural Norfolk to the smoky industrial city of one million inhabitants.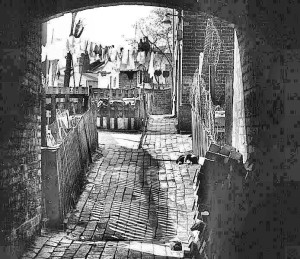 But the girls made their homes in Birmingham and both married enterprising young men who did well for themselves and their families.
In the summer of 1920 Gladys travelled back to her home town of Yarmouth to marry Birmingham-born George Hall, a young man her own age who was later to set up a family home and business in Castle Bromwich.
Maurice Is Born On Christmas Day
Five years later, in the summer of 1925,  sister Dolly married Philip Meader in Plymouth, he was now 27 and Dolly was 20 years old. The following summer a son, Nathan was born in Hammersmith, London. The couple then settled in Phil's home town of Birmingham where Dolly gave birth to another son, Maurice on Christmas Day 1928. Their joy was not to last. Sadly, in December 1932, Nathan died aged just 7 years old.
(In 1971 Gladys Whitesides' grand daughter Susan gave birth to her first child whom she named Nathan. Phil Meader, then in his seventies, called on her in Castle Bromwich to thank her for naming the child after his own son and gave her a £20 note for the boy. But the family never saw him again.)
Phil Meader – Wrestling Referee
Young Nathan's death was registered in Lambeth, London. The couple seem to have moved addresses a number of times. This may be due to Phil's employment as a wrestling referee. A popular attraction before the First World War as a variety act, wrestling all but died out after the War. However, in the 1930s it was revived with the influence of professional wrestling in USA with its gimmicks and showmanship. The sport attracted many young men with the hope of making their name and fortune at a time of economic depression and was a popular working-class spectator sport. In London alone before the Second World War there were some forty regular wrestling venues.
Being an all-in wrestling referee was not without its hazards. On one occasion 'The Cave Man of the Ring' Gorilla Jones defeated opponent Jack Dale, 'King of the Flying Tackle', on falls. Dale refused to accept the referee's decision and physically attacked referee Phil Meader. Gorilla Jones and a number of the spectators had to intervene to save Phil from Dale's fury.
In 1938, in a more serious case, Phil sued a heavyweight Polish wrestler for damages. Carl Reginsky, 'so tough he chews nails and spits out rust', attacked Phil in the dressing room after he had disqualified him in a match against American Joe Devalto at Paddington's Seymour Hall. During the contest the previous October, Devalto had been lying defenceless on the mat when Reginsky took several flying kicks at him. Reginsky had then punched Phil in the mouth cutting his lip and loosening his teeth.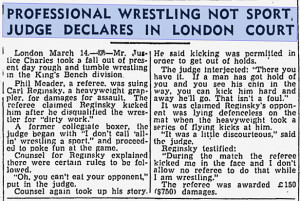 The judge, a former collegiate boxer, clearly did not regard wrestling as a proper sport. When told there were certain rules to be followed in wrestling matches, he quipped that wrestlers were not allowed to eat their opponents then. Some of the rules were read to the court, including one that wrestlers' seconds were not permitted to give their fighter strychnine or cocaine – 'loud laughter'. The judge described Reginsky's attack as 'a little discourteous'.
Philip Meader was, however, awarded £150 and Reginsky had to pay costs. However, Phil never did receive the money because Reginsky was shortly afterwards declared bankrupt by the Inland Revenue over unpaid tax.
Phil's address at that time was given as Angell Road, Brixton.
Phil And Dolly Return To Brum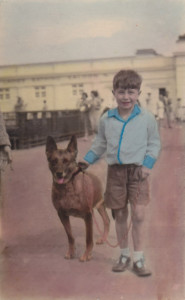 Just before the Second World War the Phil and Dolly were living with their young son in Gough Street close to Birmingham city centre, a cramped area of back-to-back houses and an area of Jewish settlement. Singers Hill synagogue was (and is) just around the corner in Blucher Street.
Young Maurice Meader was just 10 years old when war broke out in 1939. Maurice lived in the most bombed city outside London and his childhood must have been dominated by the War.
Maurice Finds Work In The Jewellery Trade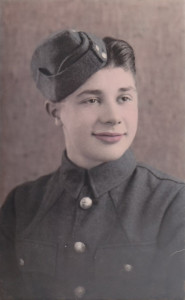 When the Victory was won in 1945, he was 16 years old and probably by then he had left school.
He found work as a jewellery maker's assistant; Gough Street is just a 20-minute walk from the Jewellery Quarter. Little jewellery making went on during the war, many of the factories and workshops having been turned over to making munitions. However, military medals continued to be made and it may be that Maurice started his working life in this line.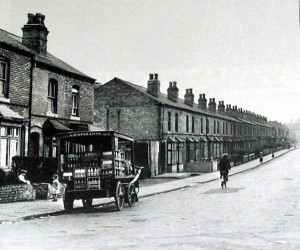 The family did well. Just after the War's end they were able to buy a house in Somerville Road, Small Heath, at that time a respectable district of artisan workers and the lower middle class. Their house, No. 240 is no longer there, though many similar houses remain.
Maurice must have been the apple of his dad's eye. Immediately after the War he had learned to drive a car and seems to have had his own vehicle, this at a time when less than one in ten households owned a car. Theirs must have been the only house in Somerville Road with a car parked outside.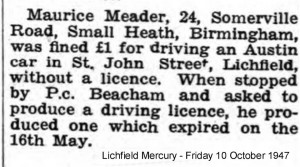 There is an interesting snippet posted in the Lichfield Mercury in October 1947. Now aged 18, Maurice was stopped by a Lichfield police officer and asked to produce his driving licence – perhaps he looked too young to be driving. His licence was found to have expired. Driving tests had been suspended during the War and were not resumed until 1946. You had to be 17 to drive, so presumably he had taken his test just after his 17th birthday.
Interestingly, the newspaper report states his age as 24. Could this be a reporter's error or had Maurice misrepresented his age to the policeman?
Qualifies As A Pilot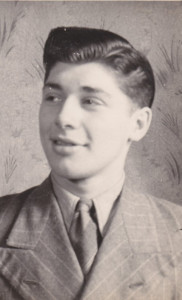 Not only could Maurice drive a car, but he had also gained an aeroplane pilot's licence. In October 1946, just after his brush with the law in Lichfield, 17-year-old Maurice was awarded his flying certificate by the Midland Aero Club.
The Club had been based at Castle Bromwich before the War, but had moved in May 1946 to Elmdon airport. The teenager had taken his test in a Taylorcraft, a light plane used for training and surveillance. Flying at this time cost £3 an hour – well over £100 at today's prices.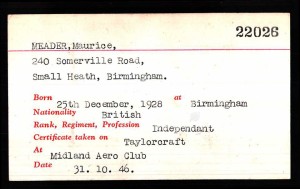 It is thought that Maurice may have had ambitions to become a Spitfire pilot. His mother's sister, Auntie Gladys lived in Castle Bromwich during the War and he must have watched the planes as they were tested from Castle Bromwich Aerodrome before being sent on to their new bases across the country. However, when the War ended, the last squadron to operate from Castle Bromwich, the 577th, an anti-aircraft co-operation unit, was disbanded in June 1946 and the aerodrome was turned over to civilian use.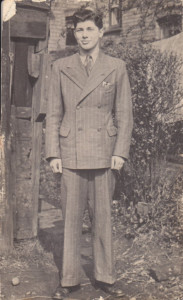 Unfortunately in 1948 Maurice's promise was cut short. He caught rheumatic carditis, an illness caused by the streptococcus bacteria; in some people antibodies produced to counter the infection attack the body's own tissues, initially the joints and then the heart. Rheumatic fever was a common and often fatal disease which affected children and young people up until the middle of the 20th century. It was and is not easy to detect as the patient merely shows signs of a bad throat. The disease is uncommon now and is easily cured with antibiotics. Nonetheless, Maurice was unfortunate to catch the illness – it usually affected youngsters up to 18 years old rather than adults.
Maurice was taken to the Queen Elizabeth Hospital in Edgbaston and died there of cardiac failure caused by rheumatic carditis on 16 June 1948. He was 20 years old. He was buried in Castle Bromwich graveyard where his grave may still be seen topped with the badge of the Midland Aero Club, a sad sign of a career that was never to be fulfilled.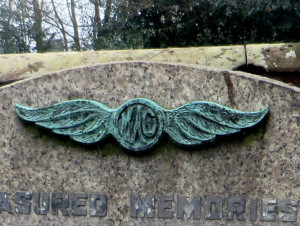 Postscript: After his death, Phil and Dolly preserved Maurice's bedroom as a shrine to him; it was just as he had left it. Maurice's model planes were hung from ceiling and young relations were taken up to visit the room when members of the family went round to visit at Christmas. Phil and Dolly never got over their grief.
Maurice's mother, Dolly is buried in the same grave as her son. She died in 1968, while his father, Philip Meader lived to the age of 82, dying in 1980. Maurice's Auntie Gladys, Dolly's sister died in 1986; her husband George Hall had died in 1963. They too are buried together in Castle Bromwich graveyard.