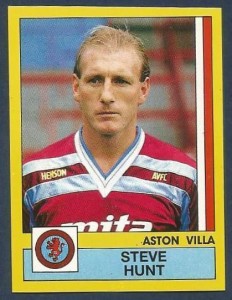 Born in Witton in 1956, Steve Hunt was signed for Aston Villa School Boys in 1967 and as an apprentice in 1972. He became a professional with the Villa at the age of 17 in 1973.  The club was promoted from the old Second Division in 1975 under manager Ron Saunders. At this time Steve lived in Wasperton Close, Castle Bromwich, then a new housing development.
He then played for the New York Cosmos before returning to England to play with First Division Coventry City. He was back with the Cosmos in 1982, then returned to struggling Coventry. Steve Hunt scored 27 goals in 185 games in his six years with the club.
His next move was to West Bromwich Albion, who were relegated in 1986 under Ron Saunders. During his time at The Hawthorns Steve Hunt was capped twice for England, playing against Scotland and the USSR in 1984. He then rejoined the Villa, who were also relegated the following year, but back into the top flight under Graham Taylor in 1987-88.
After his retirement in 1987 with a knee injury, he became the player-manager of Willenhall Town, Hinckley, then V.S. Rugby. In 1990 he coached the Port Vale youth team and then the Leicester City youth team during the following year. After moving to the Isle of Wight in 1993, he now coaches students from the Isle of Wight College working with AFC Bournemouth's Community Sports Trust.