Peter Murray-Willis was born in Castle Bromwich in 1910 and became known as a county cricketer, though not to universal acclaim.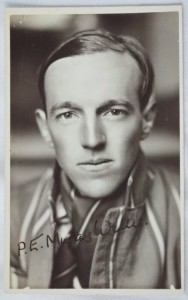 His stay here was brief! The 1911 Census has him in London and, after the First World War, he attended St George's School in Harpenden, a co-educational boarding school almost unique in its day, which attracted wealthy parents of a progressive mind. When the young Murray-Willis was there, the school was undergoing an exciting period of increasing pupil numbers and new buildings. It must have been at St George's that Peter discovered his love of cricket; the school had its own team and the long-established village eleven played on Harpenden Common just minutes from the school.
From 1930 Murray-Willis played for the Warwickshire Club & Ground team at Edgbaston and briefly for the Worcestershire county team. Then in 1934 he began his career at Northamptonshire under captain Robert Nelson, an old school friend from St George's who was killed in1940 in the Second World War. Murray-Willis was determined to keep the club going during the War and helped to organise matches every summer from 1939 to 1945. As much as a reward for his efforts, and for his association with the previous captain, as for his ability, he was given the captaincy when the War ended.
Gentlemen and Players
Cricket at this time was organised along British social class lines: there was a clear distinction between Gentlemen and Players. Gentlemen were amateurs who came from the upper and upper-middle classes and considered the crème de la crème of the game. They deigned to receive only expenses (though these could be substantial). Players were paid professionals and generally working class.
On tour the Gentlemen had superior travel and lodging and changed in separate dressing-rooms in the club pavilions. Gentlemen addressed Players by surname, while Players addressed their social betters as 'Sir' or 'Mr X'. On match programmes the Gentlemen always had their initials printed before their surname, professionals after.
As was his predecessor, Murray-Willis was very much a Gentleman amateur and, as such, suitably qualified to captain the Northampton county team. His successor was also an amateur, Arthur Childs-Clarke, who successfully took the county team to the bottom of the table for the next two seasons.
Wins Northants County Cap
Peter Murray-Willis played 29 times at first-class level before and after the War, winning his county cap for Northamptonshire and captaining 18 times. However, despite admiration from some for his spirit, he was not a successful captain or player. His team tactics were criticised. And his playing style was described as 'eccentric, flopping about in a friendly manner here and there', 'his flailing arms and legs making little progress on the turf.'
He finally lost credibility when, chasing a ball to the boundary, his cap blew off and he stopped to pick it up before returning the ball. Fortunately, the Surrey batmen were laughing so much that they failed to take the advantage and no runs were scored. This incident was one of the factors that persuaded Murray-Willis to resign mid-season, subsequently leaving the county game.
However, he continued to play cricket into his mid-fifties, appearing from 1946 to 1966 with the Forty Club, a team of experienced players of 40-years-old plus, whose aim was to challenge school and college teams and to set an example of standards of play and behaviour.
Peter Murray-Willis died in Sussex on 7July 1995 at the age of 84.
---
---