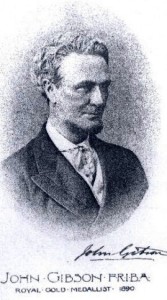 John Gibson was the second son of yeoman farmer Richard Gibson who rented a substantial acreage on the Chester Road opposite Whateley Green and was described as a horse breeder, grazier, cattle dealer and chapman. In a document of 1834 Richard is described as a gentleman, showing him to be a man of local status, wealth and influence.
He must have been successful and he certainly had ideas for his son who was not baptised at the local parish church of St Mary & St Margaret, but at the prestigious St Philip's church in Birmingham where an annual rental had to be paid to secure a pew.
John showed early academic promise and attended King Edward's Grammar School in New Street. He also demonstrated an early talent for architecture, designing a hen house of 'extraordinary beauty and classic design'.
Apprenticed to Joseph Hansom and Charles Barry
On leaving school Gibson trained for a while in a Birmingham builder's practice and was then successful in obtaining apprenticeship with Joseph Hansom who was building Birmingham Town Hall. On Hansom's bankruptcy after 1832, he completed the remaining years of his pupillage under Charles Barry in Westminster contributing to the drawings of the new Houses of Parliament.
After finishing his apprenticeship, Gibson stayed with Barry, still working of the Houses of Parliament, until 1844 when he won a competition to design the Glasgow branch of the National Bank of Scotland and he set up on his own account. The building was designed in Italian palazzo style and made Gibson's reputation. (When the building was threatened with demolition under redevelopment plans in 1903, it was dismantled with 70,000 numbered stones taken some three miles to be rebuilt as Langside Public Halls.)
(In March 1847 John Gibson's father was declared bankrupt in the Birmingham District Court; he may have been one of the many victims of the 'Year of Panic', a combination of agricultural problems and stock market uncertainty.)
A Prolific And Varied Career
Gibson was a prolific architect and designed many high status buildings across the country: churches, banks, company offices and country houses. Of note is the work he carried out for the Lucy family on the church and hall at Charlecote Park in the late 1840s and, unusually, the laying out of Cannon Hill Park in Birmingham in 1873, setting a standard for public parks which were then in their infancy.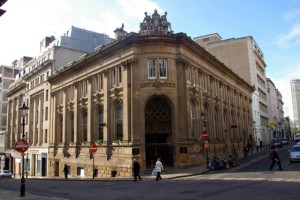 In 1864 he began work with the National Provincial Bank, designing the head office in Threadneedle Street and many branches nationwide, including the one in Bennetts Hill, Birmingham. His last work was in 1883 after which he retired.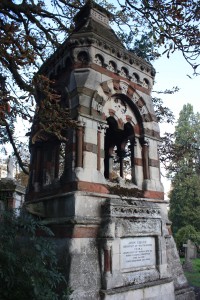 In 1890 he was awarded the Gold Medal of the Royal Institute of British Architects.
Gibson died in December 1892 at his Westminster home and was buried beneath a very large monument in Kensal Green Cemetery, London.
Images:
National Provincial Bank, Bennetts Hill, Birmingham; image by Tiger on Geograph reusable under a Creative Commons licence.
John Gibson's mausoleum at Kensal Green Cemetery; image by Stephen C Dickson reusable under a Creative Commons licence.