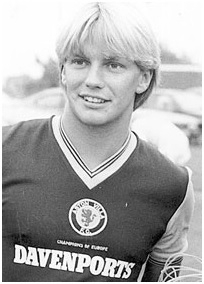 Born in Kingshurst in 1961, Gary Shaw found fame as a young striker with Aston Villa FC from 1979.
He moved to Castle Bromwich in the early 1980s to the new houses that had just been built along Kingsleigh Drive.
Growing up on Meriden Drive on the newly-built Kingshurst estate, Gary's football career began opposite the Punchbowl public house on a small grass patch, now covered with trees.
Attending Kingshurst Junior School, then Kingshurst Comprehensive (now the CTC Kingshurst Academy) in Cooks Lane, he found a regular place in the school football team, later playing for the Warwickshire Schools' team, amongst others. In 1977 at the age of 16 he was taken on by 1st Division club Aston Villa as an apprentice player, signing as a professional on his 18th birthday after making his debut in the first team.
Winning First Division Championship…..
Gary Shaw came to prominence the following season scoring 12 goals, including a hat trick. In 1981 he helped Villa to the First Division Championship, scoring 18 goals  at an average of a goal every two-and-a-half games.
He was a perfect partner up front with Peter Withe and, as a Birmingham boy, was a favourite with the fans. The same season he also won the Professional Footballers Association Young Player of the Year award.
…..And The European Cup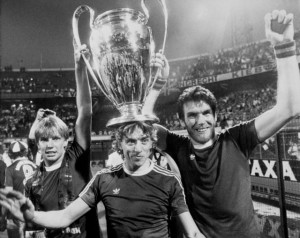 The only local team member, he played in Aston Villa's famous European Cup victory in 1982 when Peter Withe's only goal of the match beat Bayern Munich at Rotterdam. A banner on the North stand at Villa Park spells out the words of Brian Moore's television commentary: 'Shaw, Williams, prepared to venture down the left. There's a good ball in for Tony Morley. Oh, it must be and it is! It's Peter Withe.'
Retires Through Injury
Unfortunately that season marked the beginning of the end of Shaw's short but glorious career. He sustained a knee injury at Nottingham Forest after which he was never to recover his speed and agility. He underwent six knee operations over the next four years and played for Villa until 1988.
Gary subsequently played briefly for clubs in Austria, Scotland and Hong Kong and for Shrewsbury and Walsall before returning to the Midlands working in a variety of different jobs.
During his short but memorable time at Aston Villa, Gary Shaw made 165 appearances and scored 59 goals. He was a member of the team that won the Division One Championship in 1981 and the European Cup in 1982. And rumour has it that he can still be seen supporting his old club at the Holte End.