Although his stay in Castle Bromwich was brief, the dazzling career of Sir Edwin Cooper Perry began with his birth in the village.
His father, Rev Edwin Creswell Perry was from an old Darlaston family and had trained for the priesthood. However, the 1861 Census records that he had no living, being 'without the cure of souls', and that he was the schoolmaster of the Classical and Commercial Boarding School on the Chester Road which had been run for many years by John Blewitt.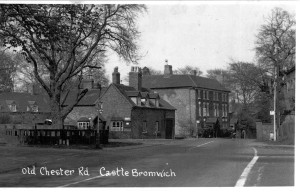 The school was in what had been the Bridgeman, later the Bradford Arms; the building still stands and is now two private houses, Delamere and Wayside.And this is where his son, Edwin Cooper Perry was born in 1856.
The 1861 Census records just eight pupils at the school aged between 6 years old and 13 with the exception of Edwin Cooper Perry who was only 4 years old.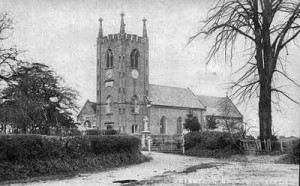 In 1861 Edwin's father secured the living of Seighford near the county town of Stafford (where he remained vicar for 38 years until his death in 1899 aged 71). Rev Perry ran a boarding school in the vicarage for the sons of gentlemen where he also continued to educate his son.
Eton, then King's College Cambridge
Young Edwin then spent some time at Rev Thomas Gascoigne's school at Spondon near Derby before winning a King's scholarship to Eton College in 1870 where he became head boy. At King's College, Cambridge, he obtained the highest honours in the classical tripos in 1880.
He then turned to medicine, quickly rising through the ranks to become Dean of the Medical School at Guy's Hospital by 1888 and Hospital Superintendent in 1892. His skill was in administration and was able to drive forward new initiatives, many of them still in place. He was involved in founding the Dental School and the School of Massage at Guy's, the College of Nursing and the London School of Hygiene and Tropical Medicine.
Knighted by Edward VII
Edwin Cooper Perry was knighted by King Edward VII in 1903 for his work in setting up the Royal Army Medical College in London after the Boer War. In 1900 he joined the Senate of the University of London as the representative of the medical faculty; he served as vice-chancellor from 1917 and principal from 1920 to 1926. He helped organise the medical faculty of Cairo University and became its director in 1926 at the age of 71.
In 1935 Edwin Cooper Perry was awarded GCVO by George V in 1935 in recognition of services to the Prince of Wales's Hospital Fund with which he had worked since its inception in 1897.
Like his father, Perry was multi-talented: a classical scholar to the end, a musician, a skilled physician and surgeon and a talented administrator. He was shy and modest and was most interested in achieving a goal than being credited with it.
Sir Edwin Cooper Perry died in 1938 at home in Worthing, Sussex and his ashes were buried in Seighford churchyard. (Seighford Council School was subsequently renamed Cooper Perry School in his honour.)