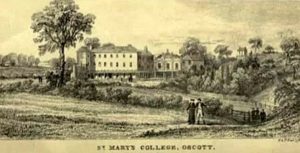 Old Oscott, is now most associated with Cardinal John Henry Newman, a prominent Anglican and later a Roman Catholic priest of the 19th century who was beatified by the Pope in 2010. Now part of Kingstanding, Old Oscott has been an important centre of English Catholicism since the 18th century.
The district takes its name from an unknown Anglo-Saxon called Osa whose 'cot' or cottage stood here over a thousand years ago; Osa is known to have been a nickname for Oswald. His cottage is likely to have been a small farmstead at the foot of Old Oscott Hill where a small stream, Oscott Brook wound down to the wide fertile valley of the River Tame. (The brook was culverted after World War 2.) By the time of the Norman Conquest, Oscott lay within the extensive manor of Handsworth.
Born about 1652 in Oscott House, Andrew Bromwich was a member of an old Catholic family in Staffordshire. Trained for the priesthood in Lisbon, Bromwich was one of the last English Catholic priests to be tried for treason. Condemned to death in 1679, he was ultimately released and he returned to the family estate at Oscott. On his death in 1702, his house and lands were bequeathed to support a priest locally. In 1752 the Roman Catholic bishop, Thomas Hornyhold, Vicar Apostolic of the Midlands had the old house rebuilt as his residence and this plain Georgian building survives. The bishop never lived here however, and the house was used as Catholic girls' school and priest's house.
A simple chapel was added in 1778 after the passing of the Papists Act which eased earlier restrictions on Catholics. Because of subsequent alterations, little now survives of this chapel.
School and Seminary
With the Roman Catholic Relief Act of 1791 allowing Catholics to open schools, a group of local Catholic gentry established a school here for their sons with a seminary for trainee priests known as Oscott College. It was the first Catholic seminary to be set up in this country since the Reformation.
Bishop John Milner, Vicar Apostolic of the Midland District, was instrumental in altering and extending the building from his appointment in 1803, notably in 1809 with the addition of a 3-storey wing built at right-angles to the original block to which it was later linked with a cloister. There were then 35 boys on roll. Milner renamed the college as St Mary's and set up the first Sacred Heart Chapel in England in 1814: this has remained a focal point of the site ever since. The chapel is designed in a light gothic style and has stained glass by the noted Birmingham glassmakers, Egintons.
With continually expanding numbers of trainee priests, it was decided in 1827 to build a new 'Oscott' college on farmland some 2 miles to the east at the junction of the Chester Road and what is now College Road. Much of the finance was provided by the Earl of Shrewsbury, who generously funded many Catholic projects in the Midlands, including the building of St Chad's Cathedral in Birmingham.
Thus in 1838, the place known as Oscott for a thousand years became Old Oscott in distinction to the New Oscott.
John Henry Newman and Maryvale
Old Oscott was home to the Blessed John Henry Newman from 1845. Oscott College was dedicated to St Mary and it was Newman who dubbed it Maryvale, a name by which the site is still known.
Born in London in 1801, the son of a wealthy banker, Newman underwent a conversion to evangelical Christianity while at Great Ealing public school. He entered Trinity College, Oxford at the age of 16 and was ordained into the Anglican priesthood, later being appointed vicar of the university church of Saint Mary the Virgin, where his inspiring sermons proved very popular with the students. Newman's views on Anglicanism began to change and it was here that he and others set up the Oxford Movement with a vision that the Church of England was a Catholic church alongside the Church of Rome and the Orthodox Church and with a mission to restore pre-Reformation traditions in the Anglican church, many of which were retained by the Roman Catholics. Newman finally found that he could not square the circle and was received into the Roman Catholic Church in 1845.
While studying in Rome for the priesthood, he was attracted to the concept of an oratory, specifically that of St Philip Neri. This was a congregation of ordained priests and lay brothers who did not take vows as monks do, but worked together in a similar way. His ambition was to create an English Oratory.
After his confirmation at (New) Oscott College in 1845, Bishop Wiseman offered Newman and his followers the use of the old Oscott College buildings which were still in use as a Catholic school. Newman was ordained priest in 1847 at St John Lateran, the Cathedral of Rome, and spent the next months studying the history and traditions of the Oratory to see how they could be adapted for his home country. His vision was not of a rural retreat but of an Oratory in a city where he felt he could make most impact. On his return to Maryvale, he carried with him a papal brief to establish the first Oratory in England which was to be in Birmingham.
Birmingham Oratory
In 1849 Newman set up the Oratory in a former gin factory in Alcester St, Deritend with seats for 500 worshippers; the building stood adjacent to the site of the present St Anne's Catholic Church. Three years later, the Oratory moved to its present site on the Hagley Road, Edgbaston. Newman was made a Cardinal by the Pope in 1879. He died on 11 August 1890 and was buried at the Oratory Cemetery at Rednal, remembered as a major figure in English Catholicism.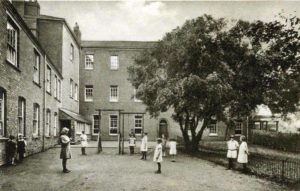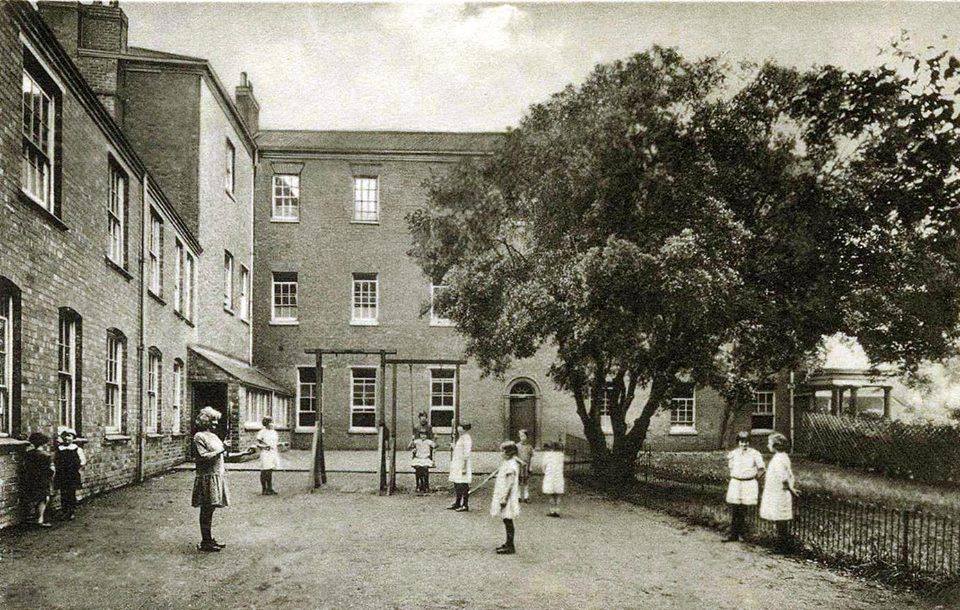 In 1851 Bishop Ullathorne invited the Sisters of Mercy to establish an orphanage at Maryvale. Founded in Dublin 1831, the Sisters were a society of nuns concerned with the welfare especially of women and children suffering poverty, sickness and lack of education. They set up a single classroom here for their resident orphans, a school which eventually evolved into Maryvale Catholic Primary School and Cardinal Wiseman Secondary School. The Sisters of Mercy left in 1980.
Maryvale now houses the Maryvale Institute International Catholic College which has a wide remit to provide lifelong learning and research in Catholic evangelisation, theology and religious education. The chapel is regularly open to the public for services.